Take my love, take my land. Take me where I cannot stand. I don't care, I'm still free. You can't take the sky from me. Take me out to the black. Tell 'em I ain't comin' back. Burn the land and boil the sea. You can't take the sky from me. Have no place I can be. Since I found Serenity. But you can't take the sky from me
-Firefly Theme Lyrics-
Resources
Brushes, Textures & Tutorials

- Veredgf
- Digital Beauty
- Tere Art
- Colorfilter
- Addicted Arts
- 84 Percent
- The Magic Box
- Hybrid-Genesis.net
- Hybrid Genesis @ LJ
- Gender
- 100x100 Brushes
- Icon Coloring
- Tove 91 @ LJ
- Colorization
- xIconTexturex @ LJ
- Texturize @ LJ
- Shatterheart
- Elanordh @ LJ
- Own the Sunshine @ LJ
- Ewanism @ LJ
- Wash When Dirty @ LJ
- Brusheezy
- Discolore @ LJ
- Lovely Trash
- Ex-Posed

- More Credits @ my Graphics LJ (Always updated)
Credits
Images


- STOCK: Getty Images, Stock Exchange, Acclaim Images ...

- FANDOM: Daydreaming, Firefly, Frak That (Battlestar Galactica) Farscape, Stargate SG·1, Stargate Atlantis, Battlestar Galactica, Pushing Daisies, Veronica Mars, Fractured Sanity (Lord of the Rings) ... or made by myself.

- LIVEJOURNAL: Jems,Robin Hood BBC, Cap It, Inadream Caps, Rawr Caps...
Fonts

- Icons: DaFont
- Site: Verdana, Tahoma, Century Gothic

Programs

- Photoshop + Image Ready
- Photoshop CS3
- Notepad ++
- Top Style Lite (CSS)
- CuteFTP 8.0

Scrips

- Icon Sort
- Quotes (PHP Script)

Past Layouts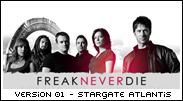 About Me
Girl:
Natalia, Spanish, Fangirl ... University Student, Mythology Lover, F.C.Barcelona & Liverpool F.C. Supporter, Fan of Punk-Rock (Green Day Rules) & Gothic Music, F1, Sci Fi, Coffee Addict, Anti-slash ...


Fan:
ESDLA (LOTR - El Señor de los Anillos), ASOIAF (CdHyF - Canción de Hielo y Fuego) Battlestar Galactica, Stargate SG·1, Stargate Atlantis, Farscape, Firefly, Serenity, Alias, Babylon 5, Star Trek (TNG), X Files, Ugly Betty, Chuck, Pushing Daisies, Gilmore Girls ... Jamie Bamber, Joe Flanigan, Ben Browder, Michael Vartan, Lauren Graham, Kristin Chenoweth ...


Shipper:
Lee/Kara (Battlestar Galactica), John/Aeryn (Farscape), Sheppard/Weir (Stargate Atlantis), Mal/Inara (Firefly), Mulder/Scully (X-Files), Faramir/Éowyn (LOTR), Daniel/Vala (Stargate SG·1), Riker/Troi (Star Trek TNG), Vaughn/Sydney (Alias), House/Cuddy (House M.D.) ...


Fav Charecters:
Lee Adama (Battlestar Galactica), John Sheppard y Rodney McKay (Stargate Atlantis), Jayne Cobb & River Tam (Firefly), Susan Ivanova (Babylon 5), Will Riker (Star Trek TNG), Olive Snook (Pushing Daisies) ...


Collective - All in Spanish:
- Mundo Gilmore (Gilmore Girls)
- Hielo y Fuego (The Future Game of Thrones TV Series based on A Song of Ice and Fire saga by George R.R. Martin)
- Nación Friki (A very special Nation - SOON)
- Daisies & Pies (Pushing Daisies)
- PS Dreamers (About Photoshop Things - SOON)


Livejournal:
- Xiperita@LJ (Personal Livejournal)
- xHicons@LJ (Graphics Journal)


DeviantArt
- Ayshel@DA (My textures)

About the Site
- By Natalia a.k.a Xiperita - SPAIN 2007-????. All Rights Reserved ©
- Layout: Version #03 - Glee by Me
- Contact: natalia @ nacionfriki.com -> Subject: Contact FND
- Domain: http://www.nacionfriki.com
- Hosted by: Dreamhost
- Since: 2007-????

+ Thank you so much to Rober that fixed all those things that were wrong.
« Back